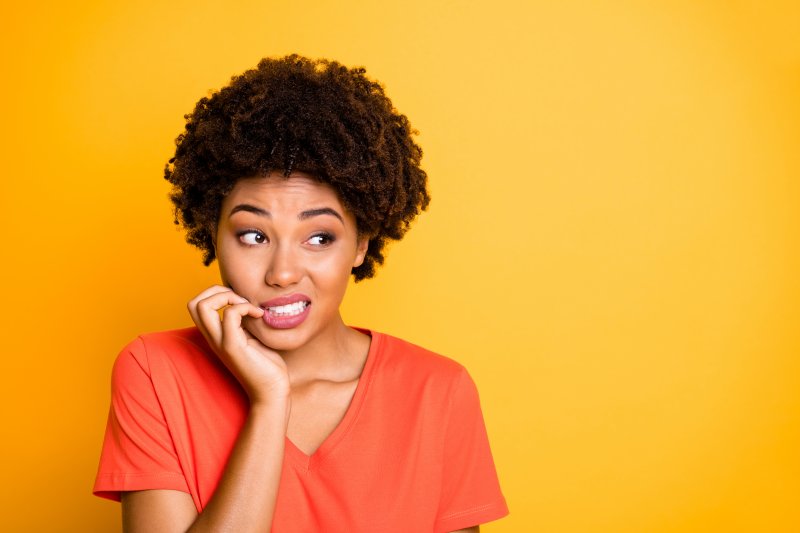 Now that you have your dental implants, you can be sure to enjoy the full function of your smile again! While these restorations can typically last you a lifetime, you'll still need to maintain them with a proper dental hygiene. Additionally, certain behaviors can negatively affect them in the long run. Read on to learn five habits you should avoid with dental implants so that they remain strong and healthy!
Habit #1: Skipping Flossing
While your dental implants aren't likely to develop cavities, it's still crucial that you brush and floss them every day. This is because plaque buildup can still occur with your restorations and especially your gums. While brushing can remove particles from the major areas of your smile, flossing is essential for reaching the hard-to-reach parts between your teeth and beneath the gum line. This can help you prevent serious issues like gum disease, which can cause your dental implants to fail.
Habit #2: Avoiding Checkups
Even though you have a full smile again, you should always visit your dentist at least twice a year. They can ensure your implants remain in good condition and can detect or treat any developing problems early on. Also, they can provide a professional cleaning to retain your teeth's shine!
Habit #3: Smoking Tobacco
Chewing or smoking tobacco products is not only harmful to your mouth, but can also increase the risk of dental implant failure. This is primarily due to its negative impact on your healing process, making it more difficult for your bone to regrow and fuse with the dental implant in the first place. To ensure a successful treatment as well as good overall health, it's best to eliminate smoking altogether.
Habit #4: Using Your Teeth as Tools
Although dental implants provide the full function of natural teeth, they shouldn't be used as tools. Whether it's to open an envelope or tough package, you might could place unnecessary pressure on your implants. This can damage the crowns or loosen your restorations in the long run.
Habit #5: Biting on Non-Foods
Dental implants are constructed out of durable material, but they're only meant to help chew foods. Biting on anything else—like fingernails, plastics, metals, and ice—can gradually wear down the surface as well as the bones around the posts.
By keeping away from certain harmful habits and maintaining a proper dental hygiene, you can ensure your dental implants stay healthy and strong for years to come! Speak with your dentist if you have concerns, and they'll be glad to help.
About the Author
Dr. Khushboo Gandhi is a proud member of the Academy of General Dentistry, and the American and Texas Dental Associations. She received her dental doctorate in India, completed the Advanced Education program at the Oklahoma College of Dentistry, and seeks continuing education training to this day. She provides multiple comprehensive treatments, including dental implants, to help you achieve and maintain your best smile. If you'd like to know more about caring for your dental implants, visit her website or call 972-449-5120.