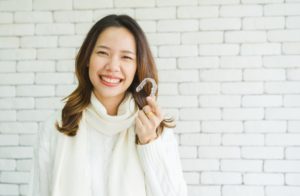 Many factors contribute to a beautiful smile, like the color and shape of your teeth. Their positioning is equally important. It's easy to be embarrassed by gapped, crooked, or overlapped teeth. You might believe braces are the only way to straighten your smile, but there may be another option. Depending on your concerns, you can achieve the results you want without a lengthy treatment using veneers. Here's the difference between Invisalign and veneers to make the best choice to attain the picture-perfect smile you desire.
What is Invisalign?
Invisalign in Murphy is a popular orthodontic system for teens and adults because it doesn't use brackets or wires to move the teeth. Instead, a series of custom-made aligners are worn over them for at least 22 hours per day. You'll switch to a new aligner every 1-2 weeks. Although every plan is unique, most patients are finished with their series in about 12 months. While Invisalign can't change the color or size of your teeth, the aligners can fix a variety of issues, including:
Gapped, crooked, or overlapped teeth
Open bite
Overbite
Underbite
And more!
What are Veneers?
A veneer is a thin shell that's bonded to the front surface of a tooth to hide a variety of aesthetic flaws. Overall, it improves the color, size, and shape of a tooth. Although veneers aren't an orthodontic treatment, they can be used as an alternative to braces. Depending on the severity of your bite and alignment needs, veneers can close gaps and make your teeth appear straighter in as few as 2 appointments. Generally, veneers in Murphy are recommended for patients who want to correct:
Gaps between teeth
Chips, cracks, or abnormally shaped tooth
Shorter than average teeth
Tooth discoloration and stains
Which is Right for Me?
Both treatments offer amazing benefits depending on your goals. If you don't have significant alignment problems and you'd like to enhance your smile overall, veneers might be the better option. You can correct several imperfections using just one treatment without having to spend months waiting to see the results you want.
If you're satisfied with your smile except for alignment concerns, or you need to make significant tooth movements, Invisalign will likely be the better option. Your dentist may also recommend Invisalign prior to veneers for patients who have certain alignment problems.
Both procedures are a big investment but don't feel overwhelmed by the decision. Your cosmetic dentist will be by your side. They'll perform a thorough examination and learn more about your goals to create a personalized strategy to revamp your smile, so you can feel confident during the road ahead.
About Dr. Khushboo Gandhi
After earning her dental degree, Dr. Gandhi continued her training in oral diagnosis and pathology. She has also completed the Advanced Education program at the Oklahoma College of Dentistry and an Invisalign Certification. Dr. Gandhi is also an active member of Spear Education. If you're ready to achieve your best smile, Dr. Gandhi has the experience and qualifications you can trust. Contact our office today to schedule your consultation.