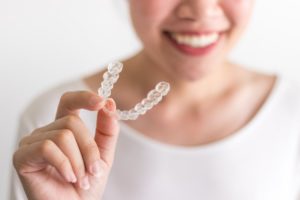 Seamless appearance, comfort, convenience – these are just a few of the advantages that Invisalign clear aligners have over traditional braces. Plus, Invisalign can often straighten crooked teeth in a fraction of the time! As with any orthodontic treatment, though, the specific Invisalign timeline can vary from one person to the next. Keep reading to find out how long you can expect Invisalign in Murphy to take.  
How Invisalign Works
Instead of cumbersome metal wires and brackets, Invisalign treatment involves a series of clear plastic aligners that are worn over the teeth. Each of these sets of aligners is worn for 20 to 22 hours per day for about two weeks at a time. They each exert a gentle pressure on a targeted area of your smile until all of your pearly whites are perfectly even.
On average, Invisalign takes about 12 months to fully straighten teeth. However, some patients are finished in as little as six months, while others may require 18 months or more. Of course, most Invisalign treatments are completed much more quickly than traditional braces, which usually take 24 to 36 months!
Factors That Determine Your Invisalign Timeline
Your exact Invisalign timeline will depend on the details of your plan, which your dentist can review with you during your consultation. Multiple factors can affect the length of time your treatment takes, including:
Amount of tooth movement required – Put simply, the more distance your teeth need to be shifted, the longer your treatment timeline will be.
Which teeth need repositioning – Front teeth have fewer roots than molars, so they take less time to move.
Bite alignment – In addition to straightening teeth, Invisalign can also fix mild to moderate cases of overbite, underbite, and crossbite. However, this requires shifting all of the teeth, which increases the total treatment time.
Your age – The jawbone can take until a person's mid-twenties to finish developing. So, for patients in their thirties or older, it may take a little longer to shift their teeth.
Are There Ways to Speed Up Invisalign Treatment?
To avoid any delays in your Invisalign treatment, make sure to:
Follow your dentist's instructions – Only switch to a new set of aligners at the times recommended in your treatment plan. Moving to a new pair too early could actually harm your teeth or jaw.
Remember to wear your trays – If you don't wear the aligners for at least 20 to 22 hours a day, your teeth won't shift as quickly as originally planned.
Remove your aligners before eating – The trays could become damaged or warped if they're exposed to foods and beverages, which may end up moving your teeth into the incorrect positions.
Take good care of your aligners – You'd have to wait a few weeks to replace a broken or cracked aligner.
Visit your dentist regularly – You should be seeing your dentist every six to eight weeks to confirm that your treatment is progressing as it should.
Thanks to Invisalign, it has never been easier to achieve a stunningly straight set of pearly whites. Call your dentist today to find out if Invisalign in Murphy is right for you!
About the Author
Dr. Khushboo Gandhi has 15 years of experience in the field of dentistry, practicing in India before moving to the U.S. During that time, she has become certified in Invisalign and loves helping patients straighten their smiles. To learn more about Invisalign, contact Murphy Dental Home at (972) 532-6506.